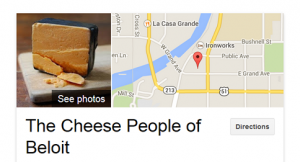 We love cheese. We love Daehelito's. We are happy to announce a match made in heaven: Dashelito's hot pepper sauces may now be found in the Cheese People of Beloit store in Beloit Wisconsin.
Cheese People of Beloit is a  family run business owned by Darren and Judith Larsen. They opened the doors to their store in May of 2012 and are open seven days a week.  Along with the cheeses they carry an ever growing list of hand selected accompaniments, craft beers and wine in the store.
If you are heading to the Beloit Film Festival please stop in the store to say hello and pick up your Dashelito's hot pepper sauces. Maybe they'll be able to "hook" you up with the new Hooks 20 year cheddar at over $200 a pound.