Dashelito's is proud to announce that the good folks at I Love It Spicy (http://iloveitspicy.com/), have reviewed our Bourbonaro Sweet Potato Hot Pepper Sauce and have given it 4.5 out of 5 (Nearly flawless, highly recommended, must buy).
Dashelito's is a solidly Midwestern company. As such, like most folks from the Midwest, we don't like to blow our horn. "Work hard… Do what's right and don't brag about it… Keep your head down… Believe in yourself" – that's what we were taught and believe in. But sometimes, just sometimes, we like to hear that we're doing a great job.
"This is a fantastic sauce. I'm going to tell people about this one, and I'm going to continue to have this in my house. Out of Madison, Wisconsin. It's nice. Dashelitos. Check them out. Good stuff. Very, very good stuff."
– Derrick Wood, Iloveitspicy.com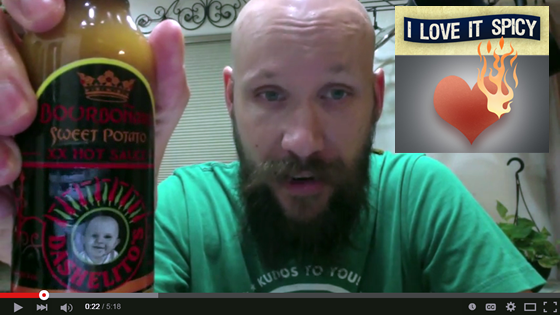 "I Love It Spicy" is not a big money "paid" blog. They seem to be a nationwide group of regular people that like food with great flavor and great spice. Dashelito's could not be more pleased that Derrick likes our Bourbonaro Sweet Potato Hot Pepper Sauce almost as much as we do.
A couple of other contributors reviewed our sauce as well. We'll post those overwhelmingly positive reviews soon.